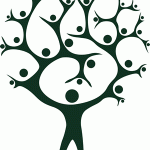 There was a time, earlier in my life, when I fully believed that Jesus was all I really needed.  In those days, I had the perfect mix of a strong faith in who Jesus is and a history of difficult relationships with people.  I rightly understood the unique way only Jesus could meet many of our most important needs as a child of God, but I thought that anything that another person could do for me was optional.  In fact, there were ways that it seemed that to rely on another person for anything of importance meant that I didn't have my heart right.
I have long since learned that even though our God is jealous in His love for us, we are not spiritually weak to rely on other people, even for important things.  We are created for relationship.  This was God's idea.  In fact, after declaring creation good again and again, the first thing that God declared as not yet complete was the lone man, "It is not good for the man to be alone.  I will make a helper suitable for him" (Genesis 2:18).
We know how the Biblical account goes about human relationship with each other and their God from this point.  We know the pain and difficulty ourselves from trying to live closely connect with others.  As we start off this fall we will spend some time in our worship being directed by the first five books of the Bible, often called the Torah (the Law).  This has much to say to us about our relationship with others, with God, and what it means to be a part of a community of others following God the Father.
While there are unique challenges in sharing the world with others in our day, I think we'll all be surprised at how much scripture is relevant in living as parts of healthy relationships.  I look forward to seeing what the Holy Spirit has for us as individuals and as a church community during this time this fall.  If you are interested in tracking along with daily readings in September and October that connect with Sunday's message and scripture let me know and I can get you a reading guide.
Because of Grace,
Pastor Matthew