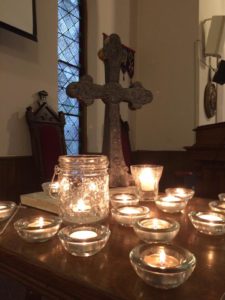 "The world needs prayer warriors who don't see prayer as the least we can do but the most we can do. And then get on knees & pray us through," Ann Voskamp on Twitter.
On Monday, June 13, we joined with our brothers and sisters in Christ from Bergen Evangelical Presbyterian Church in opening our doors and hearts to the community for silent prayer from 5:30-8:30. These are some of the images from that night, including the candles for each person who lost their life in the Orlando attacks. Each a reminder to hold a life taken before the God who loves them, and for healing and grace in the midst of grief for those who loved them in life. Even as the date of the tragedy gets further away each day, we can still pray in similar ways to what we did that night. The following ideas for prayer was borrowed from Relevant Magazine (http://www.relevantmagazine.com/) and were available to guide our prayer that night.
It's easy for some to write off prayer as actionless words in the face of tragedy. But for Christians, prayer couldn't be farther from inaction. And so in the face of this shooting, Christians need to pray. Suggestions for prayer:
Pray for the victims who are now fighting for their lives in hospitals.
Pray for families and friends who lost someone last night.
Pray for the City of Orlando and its law enforcement officials and first responders.
Pray for the Church, that in Orlando and around the country Christians will be those first to speak words of care and reach out in compassion to those affected.